CHOOSING THE RIGHT COUNTERTOPS
When looking for new countertops for your kitchen or bathroom, consider the following key factors:
Color: Choose a match for your design & functional material for your needs.
Budget: You may be able to achieve similar looks at different price points.
Durability: Is the material you've chosen going to withstand the test of time?
Layout: The size & layout of your space will affect the amount of material you need.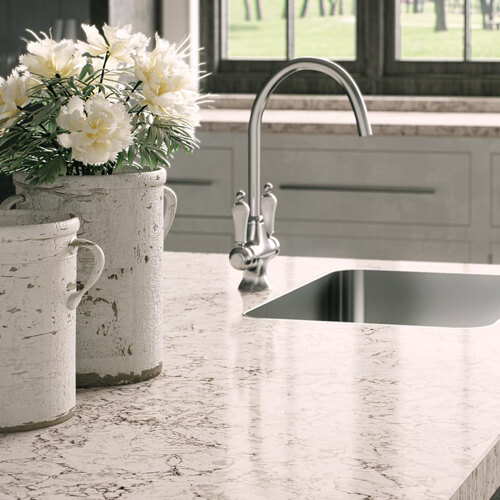 THE RIGHT CHOICE
for all the RIGHT REASONS
Cambria® leads the industry with the most diverse array of innovative designs for your material selection. Cambria offers both Cambria Matte™ finish and high gloss finish to expand your creative options.
A DIVERSE ARRAY OF STYLES AND SURFACES
We offer a variety of countertop materials to suit any room.
Granite & Natural Stone: Each piece is uniquely beautiful, with coloration that won't fade over time. Granite is an incredibly dense & affordable stone that works well in any environment.
Laminate: A stylish & affordable alternative for your kitchen or bathroom. Choose from many different styles, patterns & finishes. Laminate is also easy to clean and water-resistant.
Solid-Surface Acrylic: Features near-invisible joints for a seamless look in almost any color or pattern. Acrylic can be used for counters, sinks & backsplashes & is resistant to most stains.